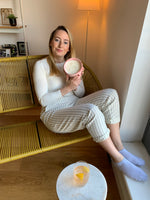 Meet the maker
This is me! 3 weeks into furlough and just after making my first date night candle! I should of been on my honeymoon but 2020 had other plans for all of us........this candle was terrible by the way, I put in 3x too much frangrance oil! 


After this initial hiccup I actually found I really enjoyed making candles, I found it relaxing and rewarding in a time of my life where I had no control over anything. I've developed a real passion for the art of candle making, the intricacies of finding the winning combo and not to mention the happiness my melts and candles bring others. 

Since then I have worked every spare minute I have, growing and developing my small business, I have a great customer base and provide a few retail units also. If you are interested in my products don't hesitate to get in touch.

I hope that my items can light up your home as much as it has mine 🏡💖
Viv x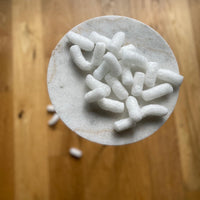 Sustainability
Every effort during the production and shipping of items has been made to create a sustainable business model. I'll be sharing all my products that I use over on my instagram page, please follow the link below ♻️🌍
• My packing Peanuts 🥜These high quality loose/void fill chips are peanut 🥜shaped and are 100% biodegradable. They will protect your items in transit, helping to absorb impact, and are a great way to fill the voids in your boxes. These "peanuts" are gm free starch and 100% biodegradable and are compostable (EN13432) They can be disposed be dissolving down the sink! (Watch my video🎥Its like a magic trick thats good for the environment!)
• My wax melts will be packaged in a eco friendly bag made from vegetable starch with conforms to the EN1342 standard, biodegradeable and are certified OK Biobased, suitable for composting 🌳